Archery for beginners, advanced and professional archers in Norway
Bow & arrow rental, course for beginners, mental and style training, individual coaching by professionals, therapeutic archery, training for instructors, camping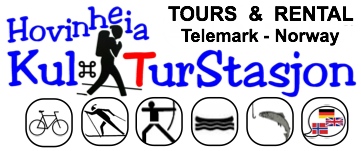 Booking period: 1 Feb – 31 Oct, min. 1 person; available on request; please also see our 120-minute archery courses (other hours happily provided, if required).
Take a look at Martin Dietrichs' books on archery (in German).
Archery equipment and target rental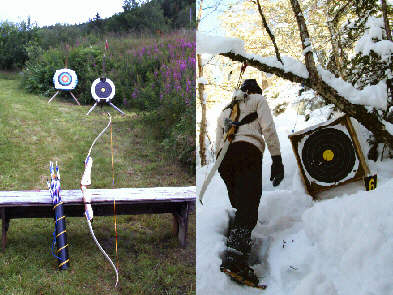 Recurve bows of 16 to 36 lbs can be rented including equipment. Our targets may be placed at a distance between 5 and 70 m. FITA and field archery target surfaces are available in different sizes. We also offer practical portable targets for hunters displaying typical Norwegian animals.
In the wintertime, one can also shoot wearing snowshoes or try archery biathlon.

Archery training for all ages – all types of bows and shooting disciplines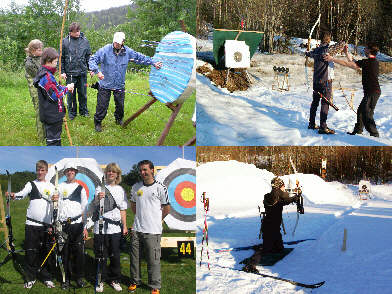 Whether you are a beginner when it comes to bows and arrows or already a pro: I am delighted to support you in reaching your goals.
Archery holds many possibilities for people of all ages, as a fun and exciting activity for your next celebration or as a company outing rather focusing on sporting, health and mental aspects.
Archery is even a means deployed in sports therapy and is used for strengthening the supporting ligaments and back muscles, relaxing the neck muscles and improving concentration and attention. This gentle sport involving strength and stamina is ideal for tackling e. g. slight depression, problems with one's discs, overweight…
Services: 2 hours of training, including equipment rental if required

Archery camp with outdoor activities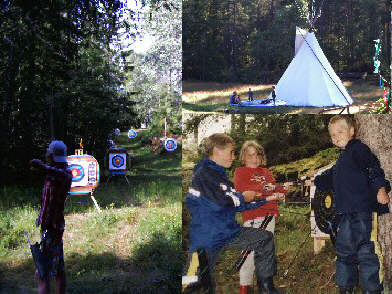 Are you and your group or club currently planning a training camp also involving a holiday and different nature activities?
How about doing archery, canoeing, hiking, cycling and making other great experiences while camping in Norway?!
Our region has a lot to offer for a camping stay full of great experiences. Coaches and tour guides are also available if required. Overnight accommodation in tents, huts for self-catering or even half or full board can be organized.
Tell us about your wishes and ideas for a perfect training camp.