Bicycling, bicycle tours and bike rental in Norway
Cycles for rent, tour proposals, tour attendance, transportation, guided day trips and multiday tours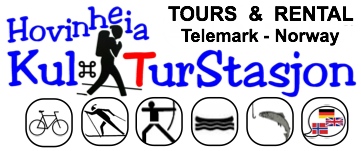 Booking period: 15.05.-15.10., from 2 persons after arrangement see also our special event
Challenge: * low - **** ambitious
Take a look at our price list for cycling dayoffers.

Bicycle rental and tour proposals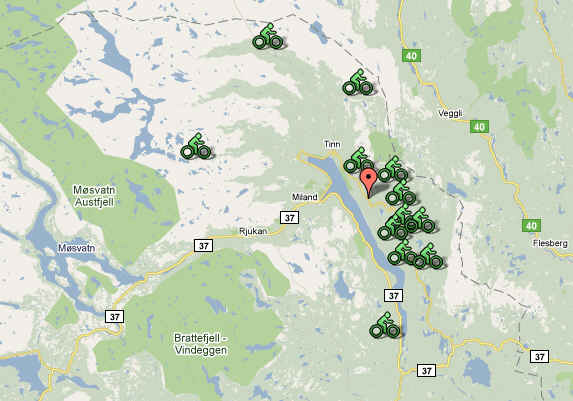 Several bicycles can be rented out together with helmet, pannier and other tour equipment. You can also get tour proposals, maps and help for bicycle and luggage transportation on one-way-trips or multiday round trips. On the map on the right you will find tour suggestions for the Hovin area and other routes on more than 130 km forest tracks. The silent road fv 364 and the "Old Hovinway" are alternatives to the main norwegian bicycle route no. 5 "Numedal, Geilo-Kongsberg-Larvik". They also connect the Telemark route 30 to Kalhovd on the Hardangervidda.
Click on the map to zoom in and to be forwarded to Google maps.

Day trips "Old Hovinway" I and II, ** to ***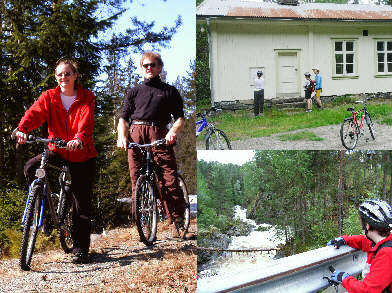 This guided trip starts from the highest point Vatnali, 748 m.a.s., on the Hovinheia with its beautiful view to the Blefjell mountain chain in the south and to the Hardangervidda mountain plateau in the north. We follow the fv 364 easiliy downhill the first kilometers until we come to the crossing "Molbrekke" where we continue on the old Hovinway, a forest track today.
Part I follows southwards to the Hovin Church passing the idyllic Heivatn lakes stopping for a brake before we pass the Ramnskardåsen and downhill with nice views to the church. From here it is possible to flollow the whole way down to the lake Tinnsjø at "Hovin Brygge".
Part II follows northwards to the next village Austbygde, passing the lake Gjuvsjå and on a side trip the reservated waterfall "Gjuvdalsfossen", then mainly downhill to the Tinnsjø lake.
Service: tour attendance, local transportation, bicycle rental if needed

Multiday tours, 3-5 days, 40-55 km per day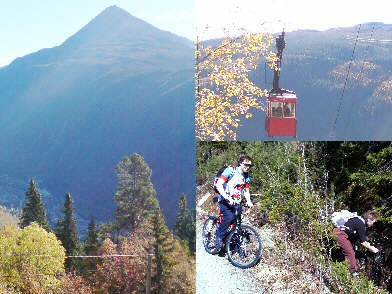 The following tours with its own special highlight can be booked as a trekking tour with attendance or as an easy bicycle tour with luggage transportation and tourservice.
Hardangervidda, 3 days: with Krosso-cablecar up to Hardangervidda and Kalhovdfjord, *
Blefjell-round trip, 4 days: over Killingskar pass, 1080 m.a.s., **
Tinnsjø-round trip, 5 days: over Gausta pass, 1275 m.a.s., ***
Service: tour attendance, accommodation, provisions, if needed, also luggage transportation, tourservices and bicycle rental

"Around Hardangervidda by bike", 7-10 days, ****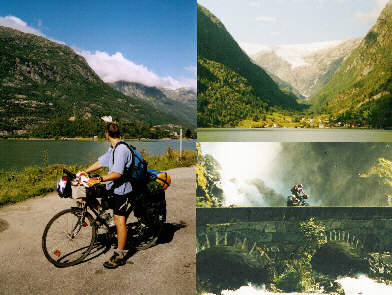 You can be present at our first bicycle trip around the Hardangervidda from 3. Juni 2011. Come with us and enjoy it!
Enjoy the Hardangervidda plateau from all directions: valleys, waterfalls, highmountain plateau, passes, fjords, glaciers, old settlements, cultural monuments... accommodation standard and leg lenghts can vary: Hovinheia Kul TurStasjon - Imingen (65 km) - Haugastøl (75 km) - Eidfjord (55 km) - Odda (75 km) - Rødal (50 km) - Rauland (80 km) - Austbygd (65 km)
Service: This tour can be booked as a trekking tour with attendance or as an easy bicycle tour with luggage transportation and tourservice, incl. accommodation, provisions, bicycle rental if needed.
Click here for further information and current dates...