Canoeing, canoe tours, paddling courses, canoe rental in Norway
Accompanied touring, canoe rental, tour proposals, guided day and multiday tours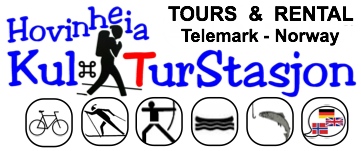 Booking period: 15 May -15 Oct, minimum 2 people, pre-booking required. See also information on our multiday canoe tours, introduction to canoe paddling on lakes and flowing waters, canoe rental and our guided day tours.
Precondition: Participants must be able to swim!

Canoe rental & tour proposals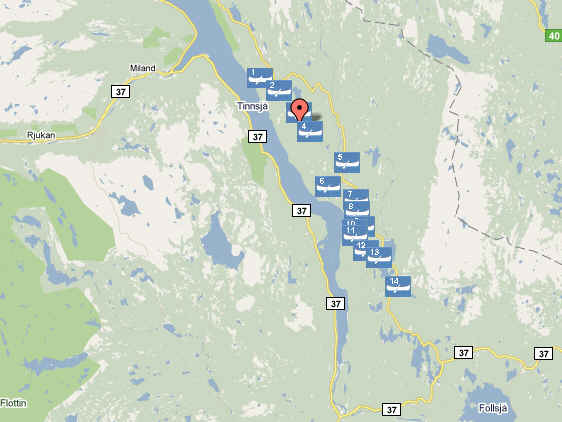 Canoes for 2 to 4 people can be rented including equipment such as life vests, tons, canoe carts and paddles. Our services also include suggestions for tours, maps and transportation (see prices for canoe rental and tour proposals). Optionally you can also rent fishing equipment and buy a fishing license for the lakes.
The map on the left shows waters for canoeing including tour suggestions (short and multiday tours).
Click on the map to zoom in and to be forwarded to Google maps.
Click on the link to be forwarded to a new
map of paddling by canoe in the north-east Telemark of Norway.

Introduction to canoeing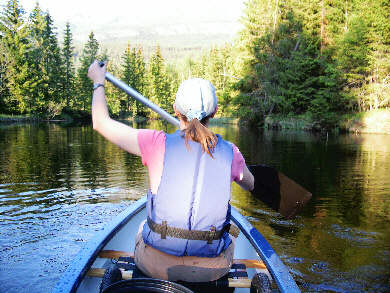 Learn the basic techniques of canoeing and touring on lakes and flowing waters.
Contents: Balance, canoe safety, paddling techniques, team work in a canoe, paddling in flowing waters, behavior in the unlikely event of...
Services: 2-3 hours of instruction, canoe equipment, local transfers

Adventurous single day canoe tour
The guided day tour starts on the river "Bjørvassåi", renowned for its beavers, and takes us to the wonderful sandy bathing beach of lake Sandvatn. After crossing the lake we reach old "Mælebru" stone bridge and walk a short distance with the canoe cart to lake Holmevatn. There we go on a discovery tour along bays and islands. We continue on the Holkåi river, which contains white water, and reach our destination, old "Holkåstogo" floating hut.
Other day tours and waters are possible on request!
Services: accompanied touring, canoe equipment, local transfers

Canoe tour on floating tracks - 2-7 days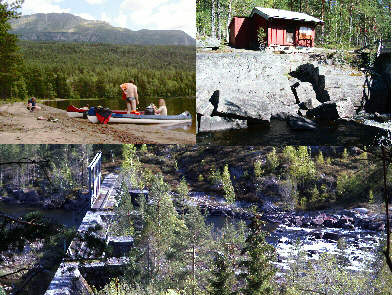 Join our canoe touring adventure across different lakes and follow the traces and cultural monuments to floating.
In 1970 the last trunks were used for timber floating on the waters around Hovin. This tour takes you across shallow waters, small canals and slight white water at the foot of the majestic Blefjell mountain and tells the history of floating in the northeast of county Telemark! This is a unique experience of canoeing, bathing, touring, nature and culture in Norway including visits to a floating dam, a waterfall and a floating tunnel as well as an impression of medieval copper mining in the Blefjell mountain.
Services: accompanied touring, canoe and tour equipment, provisions, accommodation in tents, local transfers
For further information and current dates on this tour...